Partnering with the State's Music Industry.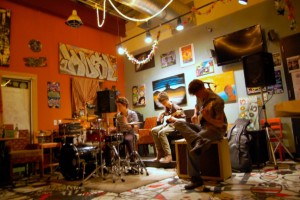 One of the tasks of the New Mexico Music Commission is to facilitate the creation of new partnerships and assist in nurturing existing partnerships in our community. We advocate bringing organizations and people to the table to create synergy in our diverse and widespread music community. The partnership section of our Web site is devoted to this role. It outlines key players with which we work on a regular basis: our affiliates, endorsements, grantees, and sponsors. It also further sheds light on our purpose and function as an advisory body to the state, dictated by our Statutes, Bylaws, and Strategic Plans.
Learn More
Affiliates

Music Commission Affiliates The New Mexico Music Commission works closely with the following organizations: AMP Concerts Artisan-Santa Fe Candyman Strings & Things (The) Creative Santa Fe Governor's Council on Film and Media Industries National Hispanic Cultural Center New Mexico School

Grantees

Grantees Funded by New Mexico Arts The New Mexico Music Commission, in conjunction with New Mexico Arts (NMArts), a division of the Department of Cultural Affairs, supports New Mexico music organizations and artists through grant funding. During the 2016 fiscal

Foundation

The New Mexico Music Commission Foundation The New Mexico Music Commission is sponsored in part by the New Mexico Music Commission Foundation. The foundation was established in 2012 by Lee Berk and David Schwartz and is a 501(c)(3) non-profit organization.