The Governor's Awards for Excellence in the Arts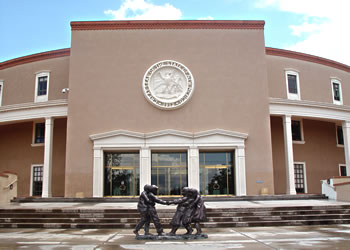 Established in 1974 by Governor Bruce King and First Lady Alice King, the Governor's Arts Awards celebrate the role that artists, craftspeople, and arts supporters play in the cultural and economic life of New Mexico. The awards are given to living artists and arts supporters who have demonstrated lifetime achievement in their art form or contributions to the arts in New Mexico. During its over forty-year existence, a diverse and prestigious list of painters, weavers, sculptors, dancers, musicians, storyteller, poets, actors, playwrights, potters, and other outstanding individuals and organizations have been honored. Nominations for the awards are invited each year from arts groups and individuals. All nominations are reviewed by a committee of the New Mexico Arts Commission, which sends its recommendations to the full commission and to the governor. The Governor's Awards for Excellence in the Arts continue to evolve with the ever-changing arts world so that the impact and relevance of the awards persist.
Timeline
January–February Nominations sought
March Deadline for nominations
June Public announcement of awardees
September Award events
For More Information
For more information on the nomination process, the public exhibit of recipients at the Governor's Gallery, or a list of last year's award winners, visit the Governor's Arts Awards website.
Music Recipients
Here is a list of musicians, music organizations, and music supporters who have received the Governor's Arts Award:
2017: Bayou Seco
2015: William Clark
2014: Robert Mirabal
2011: Las Cruces International Mariachi Conference
2007: New Mexico Symphony Orchestra
2004: Ralph Berkowitz
2002: Dr. Dale E. Kempter
1999: Roberto Martinez
1997: Marianna Gabbi
1994: Cipriano Vigil
1993: K. Lloyd Higgins; Al Hurricane; Julia Jaramillo
1992: Antonia Apodaca
1991: John Farrer; Ricardo Lucero Valenzeula
1988: Hector Garcia
1986: Cleofes Ortiz
1985: Cleofes Vigil
1982: William Kirschke; David Salazar
1979: Yoshimi Takeda
1977: Dr. Kurt Frederick
1976: John O. Crosby; Dr. J.D. Robb
1974: Grace Thompson Edmister
See complete list of all Governor's Arts Award recipients.