Music Education Advocacy
Merriam-Webster defines advocacy as "the act or process of supporting a cause or proposal : the act or process of advocating something". Synonyms of advocacy include: advancement, assistance, backing, aide, encouragement, justification, promotion, promulgation, propagation, recommendation, urging, campaigning for, championing, upholding.
The following TED video, content by Anita Collins and animation by Sharon Colman Graham, is an excellent example of music education advocacy.
TED says of the video, "When you listen to music, multiple areas of your brain become engaged and active. But when you actually play an instrument, that activity becomes more like a full-body brain workout. What's going on? Anita Collins explains the fireworks that go off in musicians' brains when they play, and examines some of the long-term positive effects of this mental workout." Anita's doctoral study, through the University of Melbourne, focused on neuroscience and music education and is titled Bigger, Better Brains: Neuroscience, music education and the pre-service early childhood and primary (elementary) generalist teacher.
Benefits of Music Education
The following excerpts on the benefits of music education are taken from an article written by Laura Lewis Brown and published at PBS.org.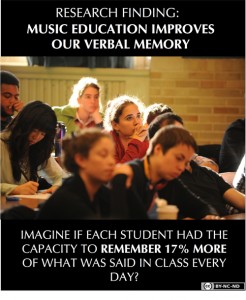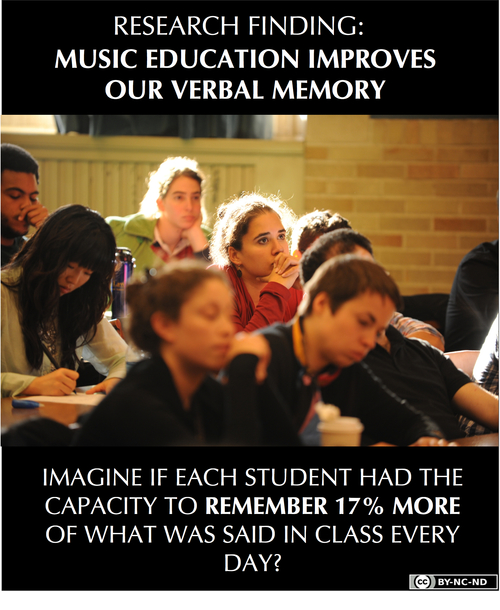 "A music-rich experience for children of singing, listening and moving is really bringing a very serious benefit to children as they progress into more formal learning."
~ Mary Luehrisen, executive director of the National Association of Music Merchants (NAMM) Foundation, a not-for-profit association that promotes the benefits of making music.
"Making music involves more than the voice or fingers playing an instrument; a child learning about music has to tap into multiple skill sets, often simultaneously. For instance, people use their ears and eyes, as well as large and small muscles. Music learning supports all learning."
~ Kenneth Guilmartin, cofounder of Music Together, an early childhood music development program for infants through kindergartners that involves parents or caregivers in the classes.
Language Development
"Recent studies have clearly indicated that musical training physically develops the part of the left side of the brain known to be involved with processing language, and can actually wire the brain's circuits in specific ways. Linking familiar songs to new information can also help imprint information on young minds," according to studies by the Children's Music Workshop. A musically rich environment where musical study is reinforced, practiced, and celebrated is highly beneficial to language development in children.
Increased IQ
A study by E. Glenn Schellenberg at the University of Toronto at Mississauga, as published in a 2004 issue of Psychological Science, found a small increase in the IQs of six-year-olds who were given weekly voice and piano lessons. Schellenberg provided nine months of piano and voice lessons to a dozen six-year-olds, drama lessons (to see if exposure to arts in general versus just music had an effect) to a second group of six-year-olds, and no lessons to a third group. The children's IQs were tested before entering the first grade, then again before entering the second grade. Children who were given music lessons tested on average three IQ points higher than children not receiving music lessons and those children receiving drama lessons, although the drama students exhibited increased social behavior not seen in the music group.
The Brain Works Harder
"There's some good neuroscience research that children involved in music have larger growth of neural activity than people not in music training. When you're a musician and you're playing an instrument, you have to be using more of your brain."
~ Dr. Eric Rasmussen, chair of the Early Childhood Music Department at the Peabody Preparatory of The Johns Hopkins University, where he teaches a specialized music curriculum for children aged two months to nine years.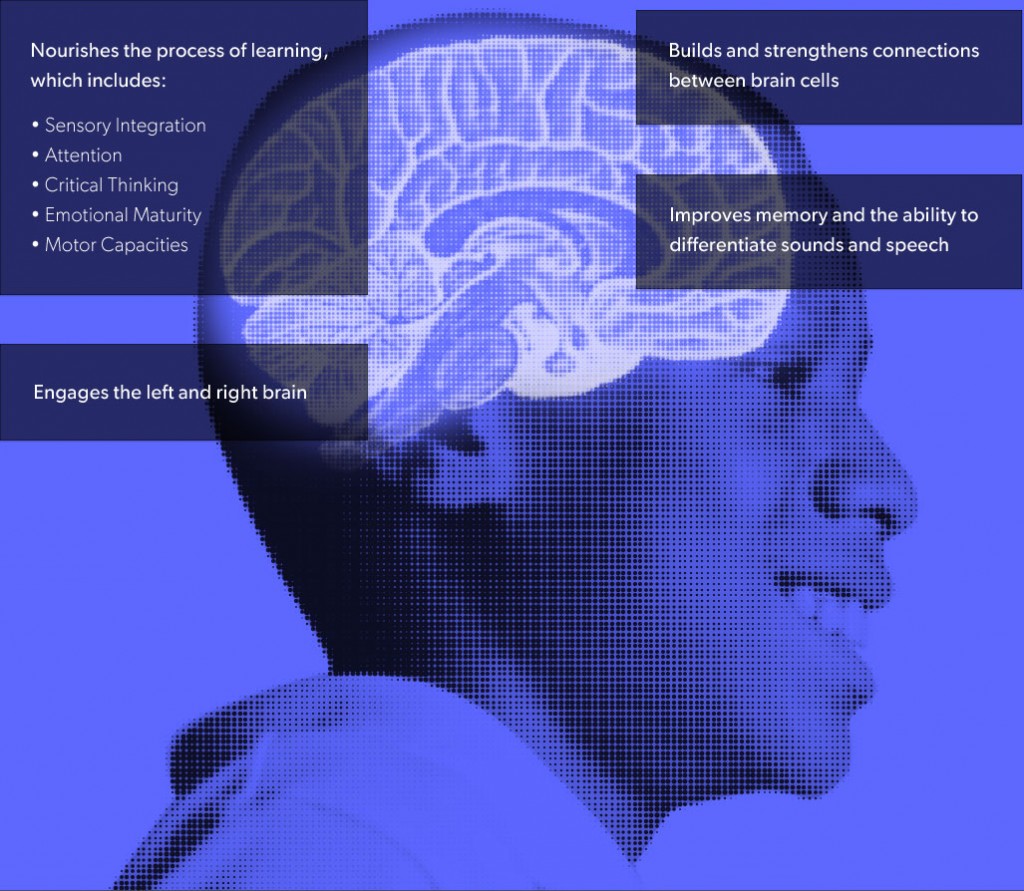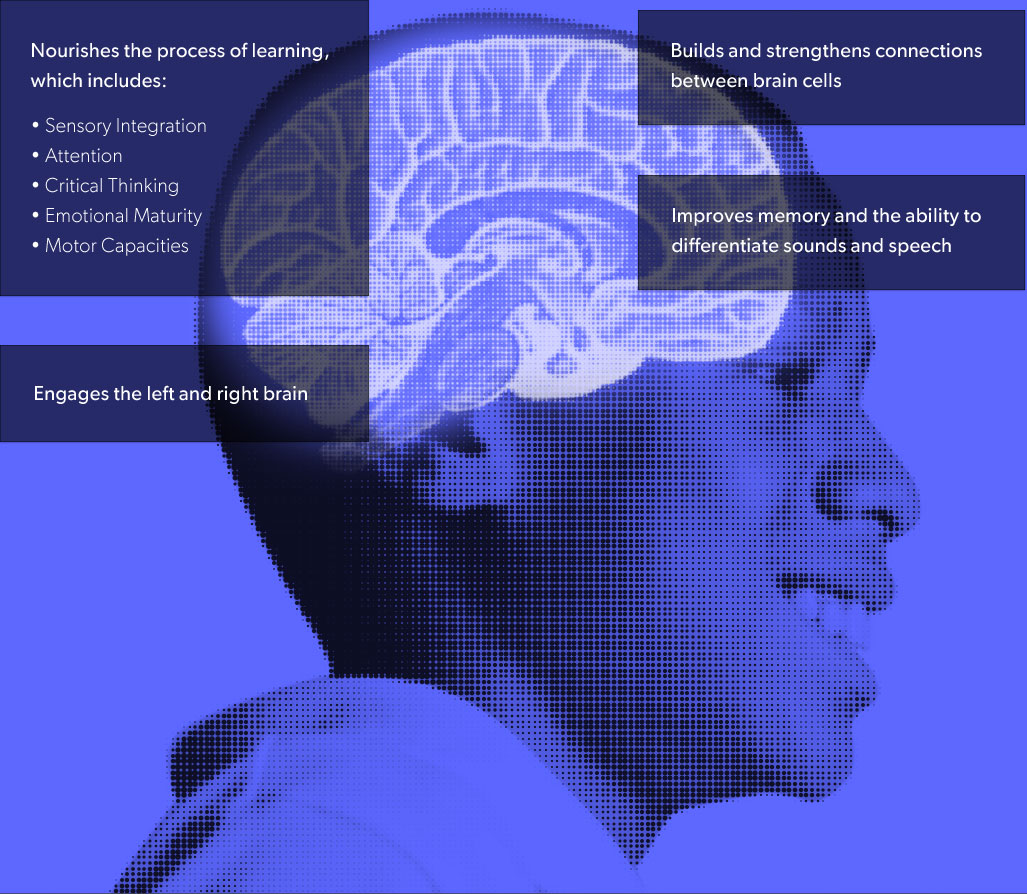 A study led by Ellen Winner, professor of psychology at Boston College, and Gottfried Schlaug, professor of neurology at Beth Israel Deaconess Medical Center and Harvard Medical School, found changes in the brain images of children who underwent 15 months of weekly music instruction and practice. The students in the study who received music instruction had improved sound discrimination and fine motor tasks, and brain imaging showed changes to the networks in the brain associated with those abilities.
Spatial Temporal Skills
Research has found a causal link between music and spatial intelligence, which means that understanding music can help children visualize various elements that should go together, like they would do when solving a math problem.
Improved Test Scores
A study published in 2007 by Christopher Johnson, professor of music education and music therapy at the University of Kansas, revealed that students in elementary schools with superior music education programs scored around 22 percent higher in English and 20 percent higher in math scores on standardized tests, compared to schools with low-quality music programs, regardless of socioeconomic disparities among the schools or school districts. Johnson compares the concentration that music training requires to the focus needed to perform well on a standardized test.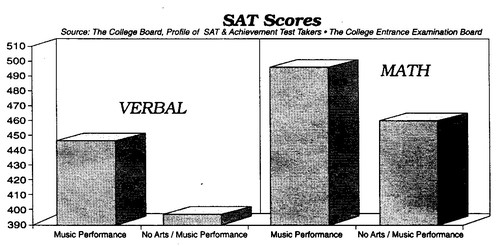 Being Musical
"There is a massive benefit from being musical that we don't understand, but it's individual. Music is for music's sake. The benefit of music education … is about being musical. It gives you a better understanding of yourself. The horizons are higher when you are involved in music. Your understanding of art and the world, and how you can think and express yourself, are enhanced."
~ Dr. Eric Rasmussen, chair of the Early Childhood Music Department at the Peabody Preparatory of The Johns Hopkins University
Music Education Statistics and Facts
Use these statistics and facts in your advocacy with school boards, administrators, friends, family, and neighbors.
Music majors are the most likely group of college grads to be admitted to medical school. ~ Lewis Thomas, Case for Music in the Schools, Phi Delta Kappa, 1994
Students who participate in school band or orchestra have the lowest levels of current and lifelong use of alcohol, tobacco and illicit drugs among any group in our society. ~ H. Con. Res. 266, United States Senate, June 13, 2000
High school music students have been shown to hold higher grade point averages (GPA) than non-musicians in the same school. ~ National Educational Longitudinal Study of 1988
78% of Americans feel learning a musical instrument helps students perform better in other subjects. ~ Gallup Poll, "American Attitudes Toward Music," 2003
Nine out of ten adults and teenagers who play instruments agree that music making brings the family closer together. ~ Music Making and Our Schools, American Music Conference, 2000
With music in schools, students connect to each other better-greater camaraderie, fewer fights, less racism and reduced use of hurtful sarcasm. ~ Eric Jensen, Arts With the Brain in Mind, 2001
71% of Americans surveyed by the Gallup Poll believe that teenagers who play an instrument are less likely to have disciplinary problems. ~ Gallup Poll, "American Attitudes Toward Music," 2003
A study of 7,500 university students revealed that music majors scored the highest reading scores among all majors including English, biology, chemistry and math. ~ The Case for Music in the Schools, Phi Delta Kappa, 1994
Students who were exposed to music-based lessons scored a full 100% higher on fractions tests than those who learned in the conventional manner. ~ Neurological Research, March 15, 1999
The schools that produced the highest academic achievement in the United States today are spending 20% to 30% of the day on the arts, with special emphasis on music. ~ International Association for the Evaluation of Educational Achievement (IAEEA) Test, 1988
Music enhances the process of learning. The systems they nourish, which include our integrated sensory, attention, cognitive, emotional and motor capacities, are shown to be the driving forces behind all other learning. ~ Konrad, R.R., Empathy, Arts and Social Studies, 2000
Teaching through the arts motivates children and increases their aptitude for learning. ~ Eric Jensen, Arts With the Brain in Mind, 2001
During moments of musical euphoria, blood travels through the brain to areas where other stimuli can produce feelings of contentment and joy-and travels away from brain cell areas associated with depression and fear. ~ Dr. Frederick Tims, reported in AMC Music News, June 2, 1999
Students of lower socioeconomic status gain as much or more from arts instruction than those of higher socioeconomic status. ~ James Catterall et al., 1999
95% of Americans in a 2003 Gallup Poll believe that music is a key component in a child's well-rounded education; three quarters of those surveyed feel that schools should mandate music education. ~ Gallup Poll, "American Attitudes Toward Music," 2003
Martin Gardiner of Brown University tracked the criminal records of Rhode Island residents from birth through age 30, and he concluded the more a resident was involved in music, the lower the person's arrest record. ~ Music Linked to Reduced Criminality, MuSICA Research Notes, Winter 2000
With music instruction in schools, teachers found that students were less aggressive. ~ Konrad, R.R., Empathy, Arts and Social Studies, 2000
Students of lower socioeconomic status who took music lessons in grades 8-12 increased their math scores significantly as compared to non-music students. But just as important, reading, history, geography and even social skills soared by 40%. ~ Gardiner, Fox, Jeffrey and Knowles
In 2003, 54% of American households reported having a least one musical instrument player, the highest figure since the study began in 1978. ~ Gallup Poll, "American Attitudes Toward Music," 2003
The College Entrance Examination Board found that students in music appreciation scored 63 points higher on verbal and 44 points higher on math than students with no arts participation. ~ College-Bound Seniors National Report: Profile of SAT Program Test Takers. Princeton, NJ: The College Entrance Examination Board, 2001
The world's top academic countries place a high value on music education. Hungary, Netherlands and Japan have required music training at the elementary and middle school levels, both instrumental and vocal, for several decades. ~ 1988 International Association for the Evaluation of Educational Achievement (IAEEA) Test
Music training helps under-achievers. Students lagging behind in scholastic performance caught up to their fellow students in reading and surpassed their classmates in math by 22% when given music instruction over seven months. ~ Nature, May 23, 1996
College-age musicians are emotionally healthier than their non-musician counterparts for performance anxiety, emotional concerns and alcohol-related problems. ~ Houston Chronicle, January 11, 1998
Children given piano lessons significantly improved in their spatial-temporal IQ scores (important for some types of mathematical reasoning) compared to children who received computer lessons, casual singing or no lessons. ~Rauscher, F.H., et al., Music training causes long-term enhancement of preschool children's spatial temporal reasoning, 1997
U.S. Department of Education data show that students who report consistently high levels of involvement in instrumental music during the middle-and high-school years show "significantly higher levels of mathematics proficiency by grade 12." ~ James Catterall, Richard Chapleau, and John Iwanaga, "Involvement in the Arts and Human Development," 1999
Children who have received music instruction scored higher marks on tests of their spatial and arithmetic skills. ~ Rauscher, F.H., Shaw, G.L., Levine, L.J., Wright, E.L., Dennis, W.R., and Newcomb, R., Music training causes long-term enhancement of preschool children's spatial temporal reasoning, 1997
The foremost technical designers and engineers in Silicon Valley are almost all practicing musicians. ~ Dee Dickinson, Music and the Mind, 1993
Three Types of Music Advocacy
Reactive Advocacy. This often comes too late, is frequently based on emotion, can be perceived as self-serving, is often budget driven, and time sensitive. You often need to work quickly and your efforts are not as organized as you'd like.
Proactive Advocacy. The goal is to create awareness. Many resources are available with research and statistics that promote the educational and social value of music education. Be repetitive. The more times people hear the same message – the more they remember (think like an advertiser). Use your teacher skills for making a point. Use local student achievement data (how are music students doing?). Show how music students that represent high risk groups are doing on standardized tests (i.e. special education, economically disadvantaged, etc.). Use as many resources and advocacy vehicles as possible: local cable access channel (play PSAs, concert info, publicize events, awards, etc.), websites (school sponsored web resources), social networking (under controlled circumstances), newsletters (traditional and electronic), newspaper articles, Play PSAs (Public Service Announcements)at concerts, information in concert programs, i.e "Did You Know," information at booster club meetings, material provided to Board of Education, school principals and staff, music presentations at Board of Education meetings.
Promotional Advocacy. Take advantage of built in opportunities such as performances; be an integral part of school and district activities. Participate in high profile events, such as district events, community events, special themed performances. Look for opportunities to bring recognition to the program. Engage parents and family members. Engage other teachers/administrators.
The above information was compiled from Leadership In Music Education.
How You Can Help
Review the three types of advocacy outlined on this page. Consider the ways in which are able to initiate and engage proactive and promotional music advocacy in your community. You needn't be a music educator or a musician. In fact, advocacy from citizens outside the music industry speaks volumes; it lets community leaders know their constituency values music education. Sending an email to your Mayor, state and federal representatives, your school district's Superintendent and the School Board, the principals of your neighborhood schools—all of these go a long way. And do not dismiss the importance of attending concerts in your community or encouraging your child(ren) to study music.
Music Advocacy Resources
There are many music advocacy resources on the Web. Here is a partial list of music advocacy links and articles to get you started:
---
Help us maintain data integrity. If you find errors or broken links on this page, please send us an email so we can correct the error. Thank you.