Nacha Mendez ~ La Union | Santa Fe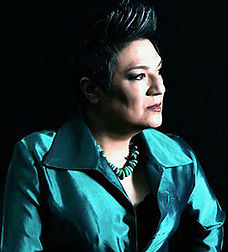 Nacha Mendez is pioneering the genre of World Latin music, drawing from the influences of her youth combined with the formal training she received during her world travels. Nacha grew up as Marghreta Cordero in the tiny border town of La Union, in southern New Mexico, where she began singing and playing the guitar at an early age. She learned traditional Ranchera Cancion from her grandmother and performed in border towns near El Paso with her cousins the Black Brothers. Nacha is recipient of the New Mexico Music Commission's 2018 Platinum Music Award.
She went on to study classical voice and electronic music at New Mexico State University before moving to New York City, where she studied flamenco guitar with Manuel Granados of the Music Conservatory of Barcelona, Spain. In the early 90's she toured Europe as a principal singer in Robert Ashley's opera company.
Nacha is a nationally recognized artist who received a National Endowment for the Arts Award and a fellowship from Mutable Music in New York. In February 2011, she was honored by the New Mexico Committee of the National Museum of Women Artists. She was voted Best Female vocalist in Santa Fe, New Mexico in 2009, 2010 and 2015. She was awarded Best Family Entertainer in 2012 by the Human Rights Alliance. She received the New Mexico Music industry award for best production in the Latin music category 2013 for her song Bella Isabel.
above: The Santa Fe Reporter debuts its Basement Concert Series with the inimitable Nacha Mendez (https://nachamendez.bandcamp.com/) Tracklist: "Tengo Que" (words + music by Margarita Cordero/BMI All Rights reserved) // "Malagueña Salerosa" (words + music by Elpidio Ramírez and Pedro Galindo/BMI All Rights reserved) // "The Peace Song" (words + music by Margarita Cordero (BMI All Rights reserved) Shot and edited by Cindy Chaffin // Camera B + booking: Enrique Limón // Post: Andrew Primm // Design/Motion: 12FPS Creative Agency.