Antonia Apodaca ~ Rociada | Las Vegas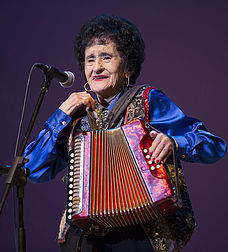 Antonia Apodaca, recipient of the New Mexico Music Commission's 2018 Platinum Music Award, is now in her 80th year of performing, has become an icon in the history of New Mexican folk music. She is musician and songwriter known for her performances of traditional New Mexico music. Her instruments are accordion and guitar, along with her passionate voice and treasure chest of traditional music.
From a family of musicians, her mother played the accordion and guitar and her father the guitar, accordion, and violin. At the age of 18, she met her future husband, Macario "Max" Apodaca a fiddler from Carmen (a village near Mora, New Mexico. In 1949 they settled in Wyoming where they lived for the next 30 years, performing together for both the Hispanic and Anglo communities at dances and local events, and raising five children.
After returning to New Mexico in 1979, she was awarded the New Mexico Governor's Award for Excellence in the Arts in 1992, the same year she appeared at the Smithsonian Folklife Festival in Washington, D.C.
In 2010, Apodaca moved to Las Vegas and has continued to perform with Trio Jalapeño. Their concerts often include her own compositions, including "Estas Lindas Flores" (These Beautiful Flowers). In 2011 she was awarded the Premio Hilos Culturales, an annual award presented to folk artists from New Mexico and Colorado "who have distinguished themselves in their communities as folk musicians or folk dancers of traditional southwest styles of Canciones Del Pasado or Bailes Antiguos."
above: Antonia Apodaca y Trio Jalapeño performing at the Santa Fe Spanish Market 2013
for more information: bayouseco.com
source: wikipedia.org